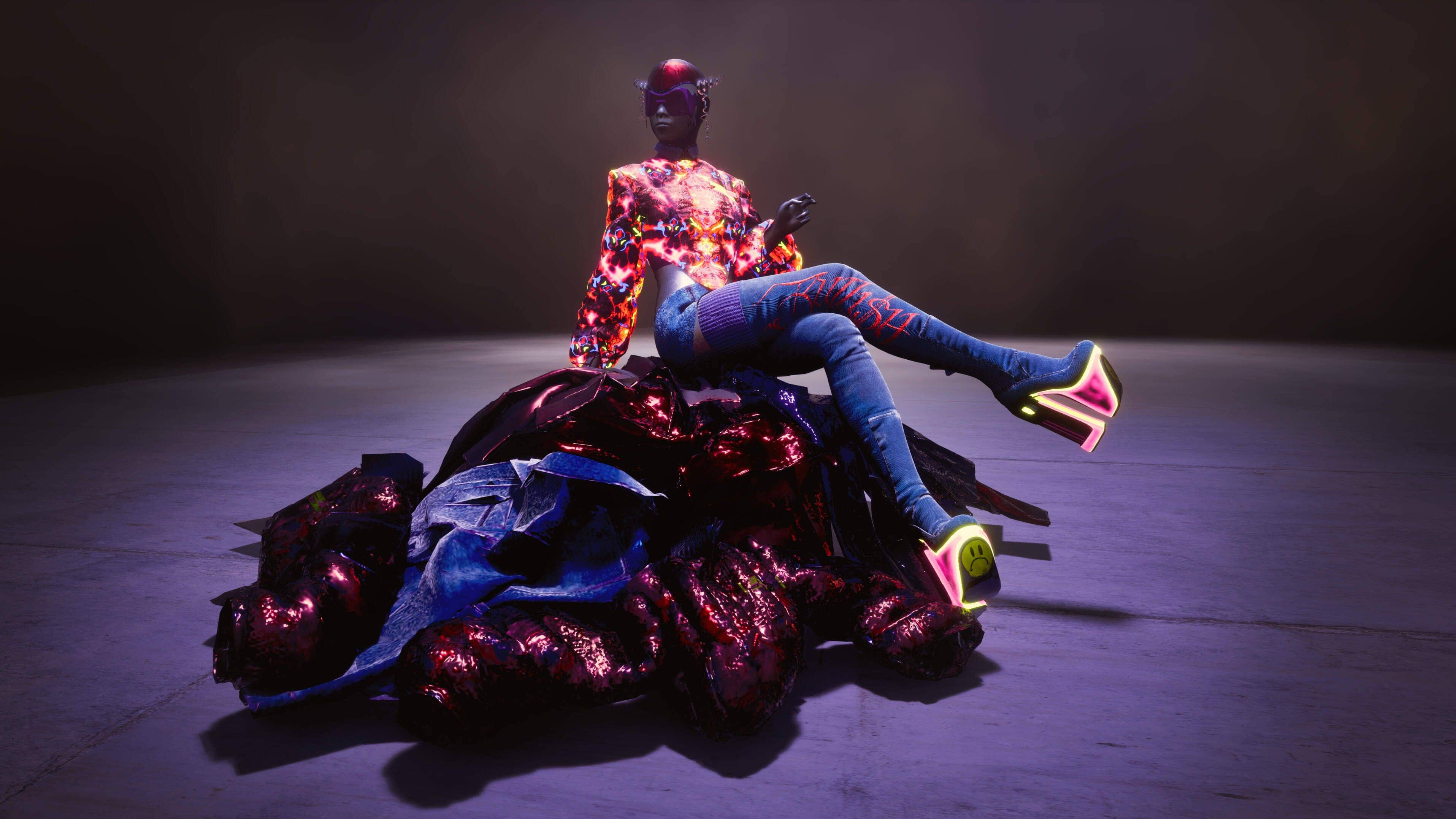 A Whole New Fashion Experience




The Fabricant and Cornerstone Join Forces to Create Next Level, Hyper-Realistic Digital Fashion Destination
Leading digital-only fashion house The Fabricant and photorealistic metaverse Cornerstone , part of the ZOAN Group, have joined forces to build a highly crafted digital fashion environment that showcases virtual garments at the highest possible visual quality, in a move focused on levelling-up the aesthetic of the industry.
The purpose-built space responds to the digital fashion industry's business need for a premium showcase for digital garments that matches The Fabricant's level of craftsmanship. Utilising Cornerstone's proprietary, state-of-the-art cloud-rendering technology, users are able to access the highly visual photorealistic experience via web browser, instead of having to invest in a costly gaming computer able to run high-end graphics.
The showcase event is built in, and provides early access to the Cornerstone metaverse, and will initially host digital couture pieces from The Fabricant's Wholeland collection. A high quality fashion experience for the Wholeland garments, called 'Wholeland, Primal Rave' will take place inside Cornerstone in early September.
The event is built using Cornerstone's revolutionary, automatized cloud publishing system: a CI/CD pipeline that enables development teams to create cloud deployments from Unreal Engine to browser-based experiences in minutes.*
The Cornerstone x Wholeland by The Fabricant showcase will include:
7 digital couture garments from The Fabricant's 'Wholeland' collection will be showcased in the photorealistic Cornerstone metaverse, exclusively in real-time at a one-off premium digital event.
The event will be open to 60 pre-invited attendees selected from The Fabricant and Cornerstone communities, who will be able to join the experience using Cornerstone's pixel streaming technology.
The showcase and related activities will commence early September, 2023.
The joint ambition is to evolve the experience to become a value generating ecosystem. It  will allow holders to wear their items, and brands and creators to create their own galleries, making them customizable within an existing framework.
Established as the world's first digital-only fashion house in 2018, The Fabricant has built a reputation for world-leading digital fashion craftsmanship. The partnership with Cornerstone, who have created the technology that enables the elevation of immersive realities, came from a natural alignment of creative and business perspectives.
Media will be invited to a special demo of the space prior to launch.
About The Fabricant
The Fabricant is a digital-only couture house that splices fashion with tech to redefine craftsmanship for the virtual space. It was founded in 2018 from a desire to sabotage the fashion world's cultural complacency and reimagine what fashion could be as an entirely non-physical experience. Through it's co-creation platform it is leading a digital fashion revolution that puts creators first, and is committed to building a sustainable and equitable fashion industry where everybody thrives.
About Cornerstone
With our 12 years of experience as a Virtual Studio and building over 650 photorealistic virtual worlds, we have taken a bold mission to democratise the photorealistic metaverse. We are using state-of-the-art technologies to gradually enable anyone without technical knowledge to create and to monetize their creative work in the digital realm while utilising the newest technologies to make metaverse accessible for everyone.
More info
Olli Hälikkä
Producer | Cornerstone
olli@cornerstone.land
*CI/CD (Continuous Integration and Continuous Delivery/Deployment) is a software engineering practice that aims to enhance the efficiency of software development by automating the build, testing, and deployment processes.